产品详情
The WIENER VME 6023 Crate Series is the newest generation of 19" integrated packaging system for standard VME/VME64 bus systems with 6Ux160mm cards. Designed primarily for applications in data acquisition, control and test instrumentation it combines superior mechanical quality with lowest noise power supply technology.
Featuring microprocessor controlled power supplies and fan trays it provides advanced integrated diagnostic and monitoring capabilities. For remote monitoring and control the VME6023 crates are outfitted with Ethernet,and CAN-bus interfaces. A unique
flexibility is given by the modular design, i.e. the VME 6023 crate consists of the UEV 6023 bin, the UEL 6020 fan tray unit and the UEP 6021 power supply. A 1U air compression chamber between the fan tray and the VME bus area enhances the VME 6023 bin construction. This made it possible to locate the power supply in the bottom behind the fan tray unit leaving the rear of the VME backplane completely accessible.
Different power supply configurations as well as crate options are offered.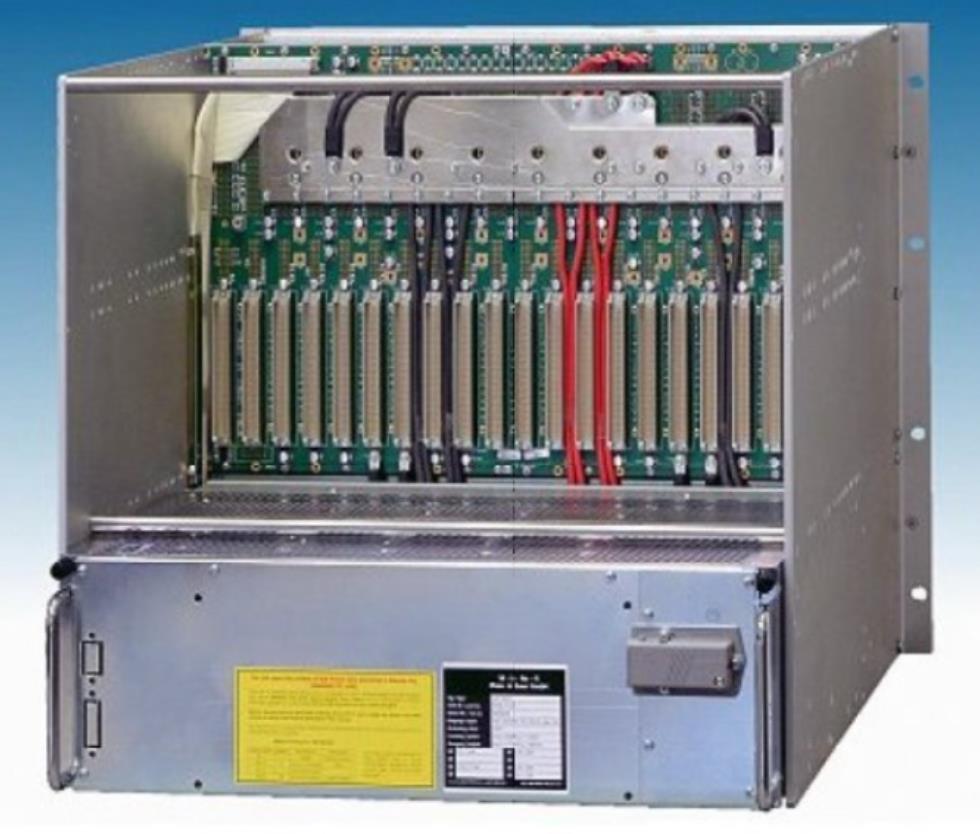 · 19" x 9U enclosure for 21 VME bus cards 6U x 160mm
· Very rugged steel-aluminum construction features 5mm thick heavy duty side plates
with zero-tolerance countersink screw positioning of all horizontal rails
· Monolithic 6U VME backplane (J1/J2), VME64 compliant, 8 layer PCB, active termination, active automatic-daisy-chain
· 2 U space for fan tray unit in front bottom position + 1 U plenum (air compression) chamber, power supply in rear bottom position
· Completely free rear side access of VME backplane with optional rear side transition card cage 3U/6U/ x 80mm/120mm/160mm/220mm
· Optional up to 8 temperature sensors in VME card cage above modules
· Dimensions: 19" (482mm) x 9U (400mm) x 480mm [whd], weight: ca. 14 Kg
UEL 6020 EX Fan Tray
· Designed to provide superior cooling of VME modules in bottom-to-top air flow
· Equipped with 3 individually controlled long-life DC fans, MTBF >65 000h
· Integrated fan speed and thermal monitoring, adjustable fan speed (1200 … 3200 RPM)
· Microprocessor controlled with alphanumeric high-visibility LED display for all fan tray, bin and power supply parameters (voltages, currents, power, temperatures, set-up data, …)
· Built-in combo interface (Ethernet, CAN-bus) for remote monitoring and control
· Free RS232 connection accessible via Ethernet, e.g. to control VME boards during boot
· Dimensions: 430mm x 2U (89mm) x 175mm [whd], weight: ca. 3,5 Kg
UEP 6021 Power Supply
· High density power supply in WIENER "Cavity-VHF" switching technology with excellent RF-shielding, optionally ultra low noise < 3mVpp (all voltages <12V), other rails <10mV
· Modular and expandable design with self-ventilated universal power blocks, individually sensed floating DC outputs
· Self-protected against any failure as under/over voltage, over current, over temperature, …
· Micro-processor controlled, programmable voltage adjustment, current limits and over-/ under voltage trip off points, temperature limits
· High power density, up to 3 kW DC output power, 3U high power box
· 94V – 260V world-wide auto-range AC input, with power factor correction, CE-conformity
· Dimensions: 430mm x 3U (133mm) or 6U (267mm) x 250mm [whd], weight: from 9.6 to 20 Kg depending on the number of power modules